"O Canada! Where pines and maples grow,
Great prairies spread and lordly rivers flow,
How dear to us thy broad domain,
From East to Western sea!"
(from Canadian National Anthem by Robert Stanley Weir)
My husband, Greg, and I have just returned from a two-week sojourn to the Canadian provinces of British Columbia and Alberta. Although I have dabbled in Canada on summer trips to Lake Erie, Niagara Falls, and a brief visit to Toronto, I have never explored its western shores. I had heard of the beauty of Vancouver and the Howe Sound so was excited for the chance to take my first large format images of Canada's north-western lands and seas.
As we had decided to travel with carry-on luggage only, the first challenge was actually getting the camera, film, and tripod to Canada.  Although we had to put a tiny wine opener into checked baggage on our return, the heavy tripod with stability spikes was oddly let through!  I brought 7 film cartridges and had to have them hand-checked at security for each flight.  I really wasn't sure if I would suffer any light leaks with all the handling and swiping for bomb chemicals they endured, but miraculously they survived intact.
Our first stop was in Squamish where we visited our friend Mikki and her sporty son Canon.  We scaled "The Chief," heralded as one of North America's largest granite monoliths. Although it was only 2.5 miles round trip, we climbed about 2,300 ft straight up to get to the First Peak summit. I didn't manage to bring the view camera so have posted our iPhone shots, but would definitely like to return with more time to capture the dramatic views.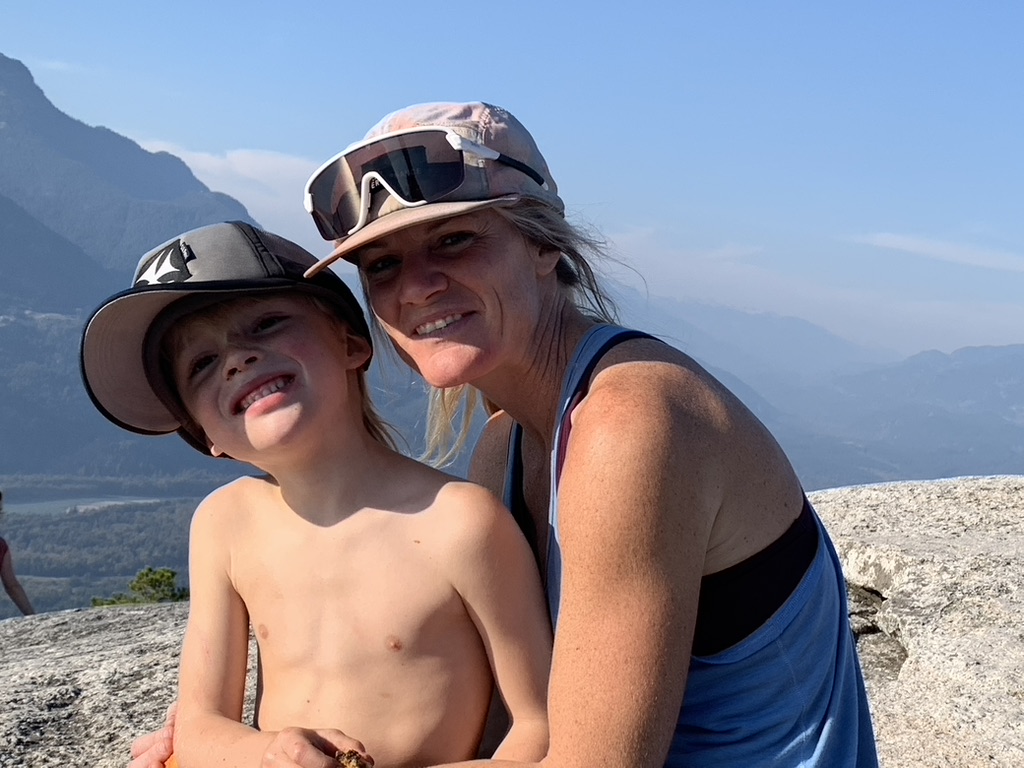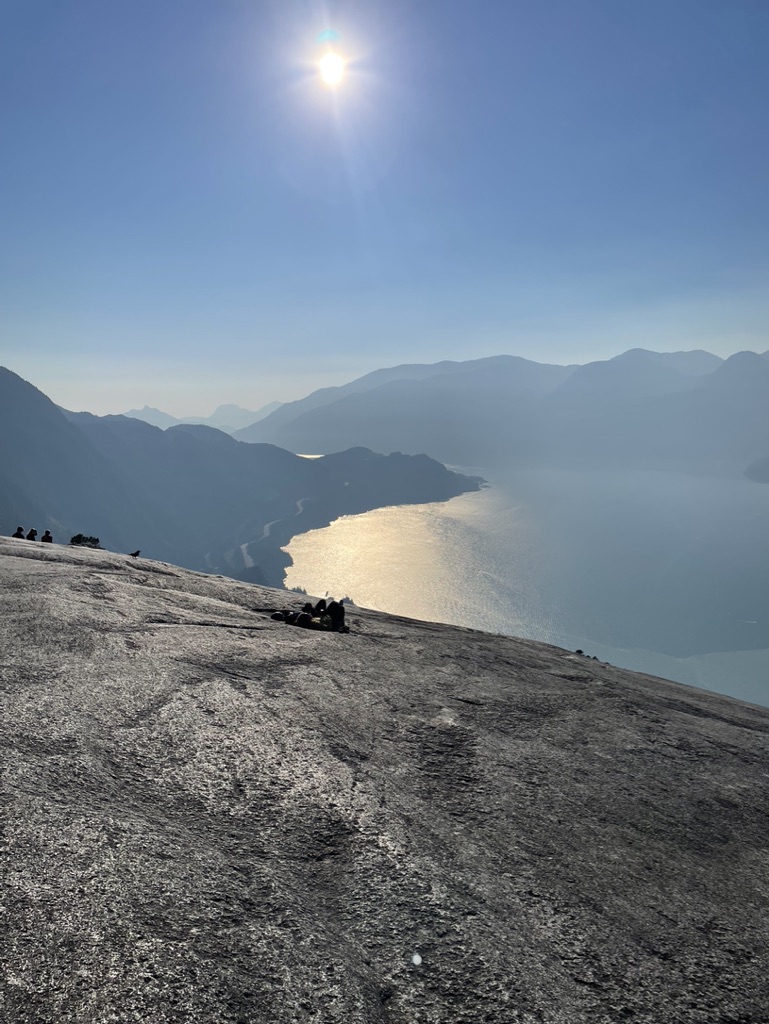 After Squamish, we headed back to Vancouver and took a short ferry to Bowen Island.  I discovered quickly that because it normally rains so much in the northwest, they have an abundance of trees!  Many trees makes for many roots and many hikes without the wide open views we are so used to in California.  So although I hiked many miles carrying my view camera on the hamlet of Bowen Island I don't have any images to show for it!  There was one brief window I captured with the iPhone but thought there would be another chance on the summit which turned out to be a frustrating pile of rocks.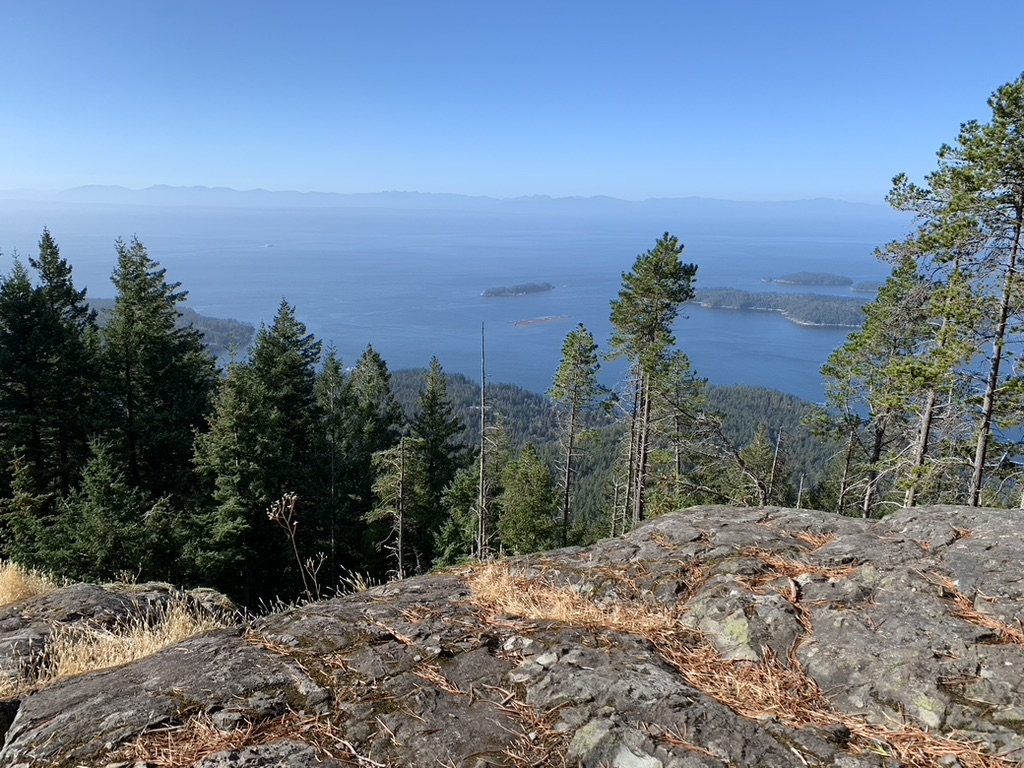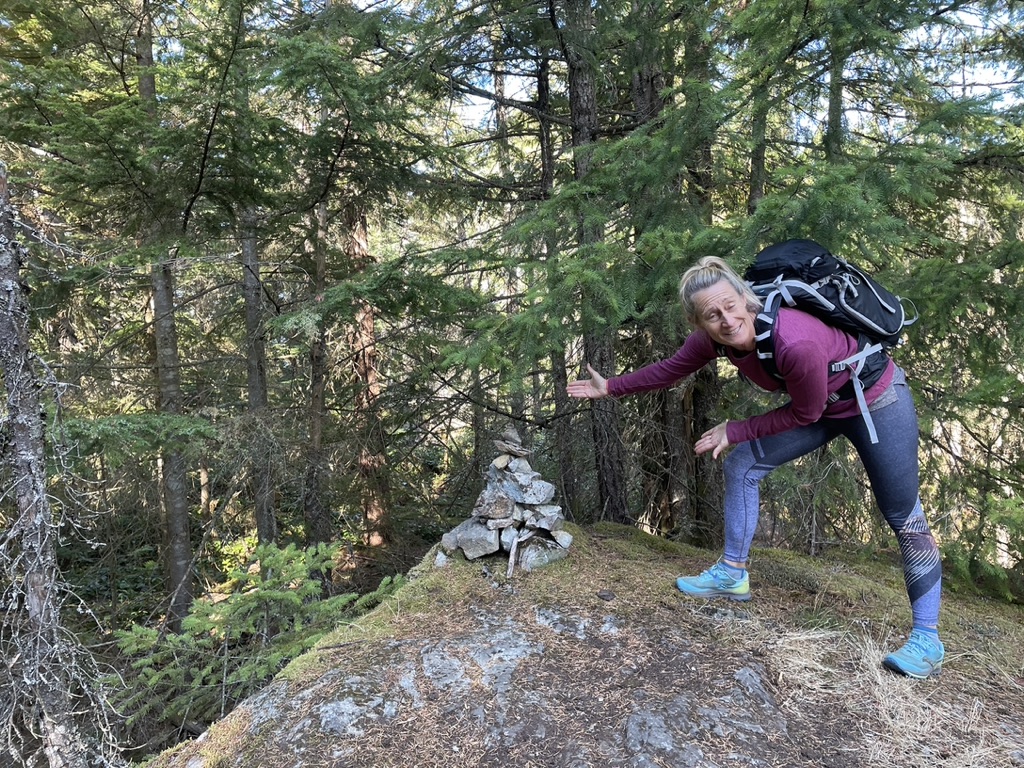 From the little Island, we ferried across the Strait of Georgia to the much larger Vancouver Island, and stayed a night in Parksville.  I captured my first early morning shots on my Zone VI.  This town has a lovely beach with an interesting play of water and sand bars when the tide is out.  The tide was firmly in for our one morning so I wasn't able to capture the sand bars but you get a feeling of the lonely isles of sea, trees, and sky.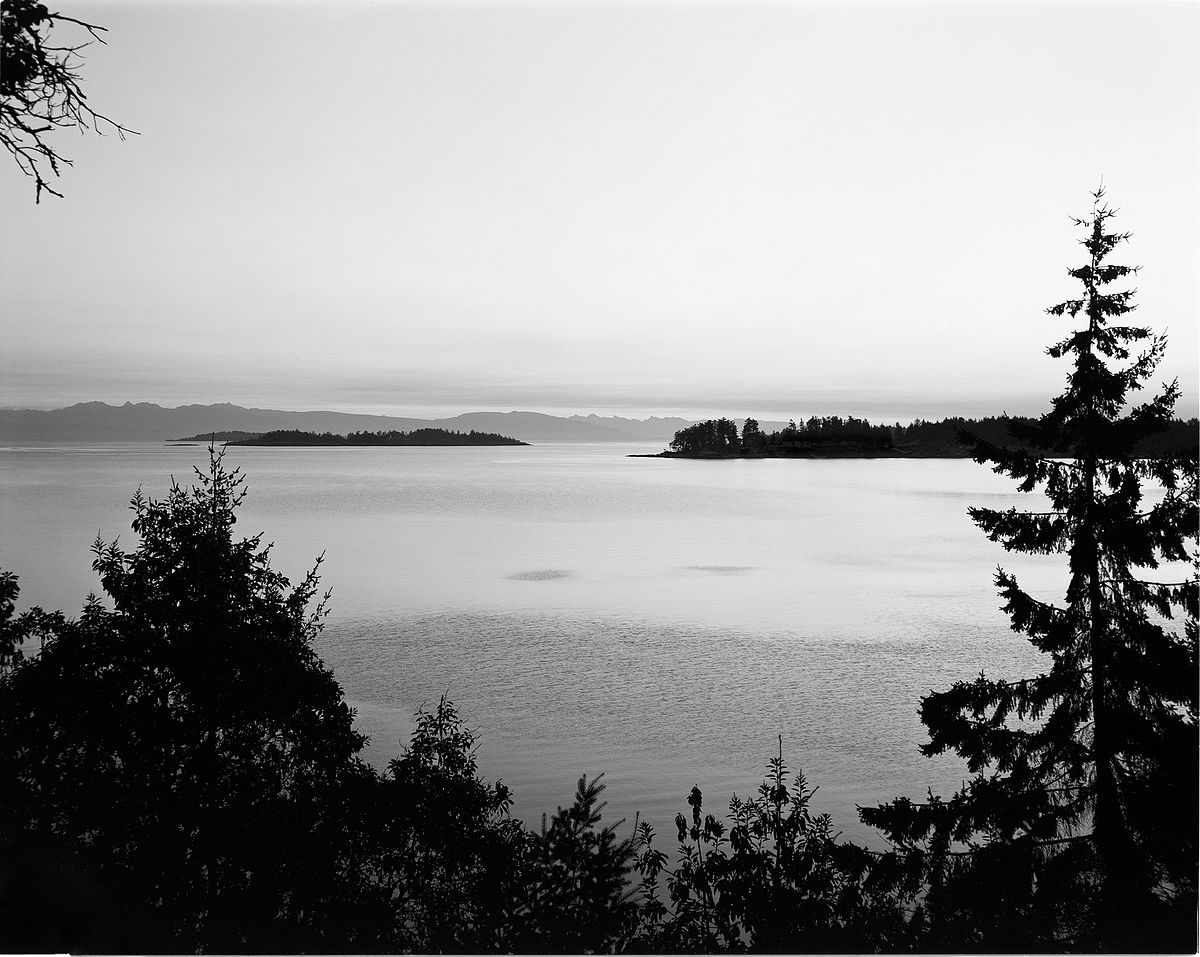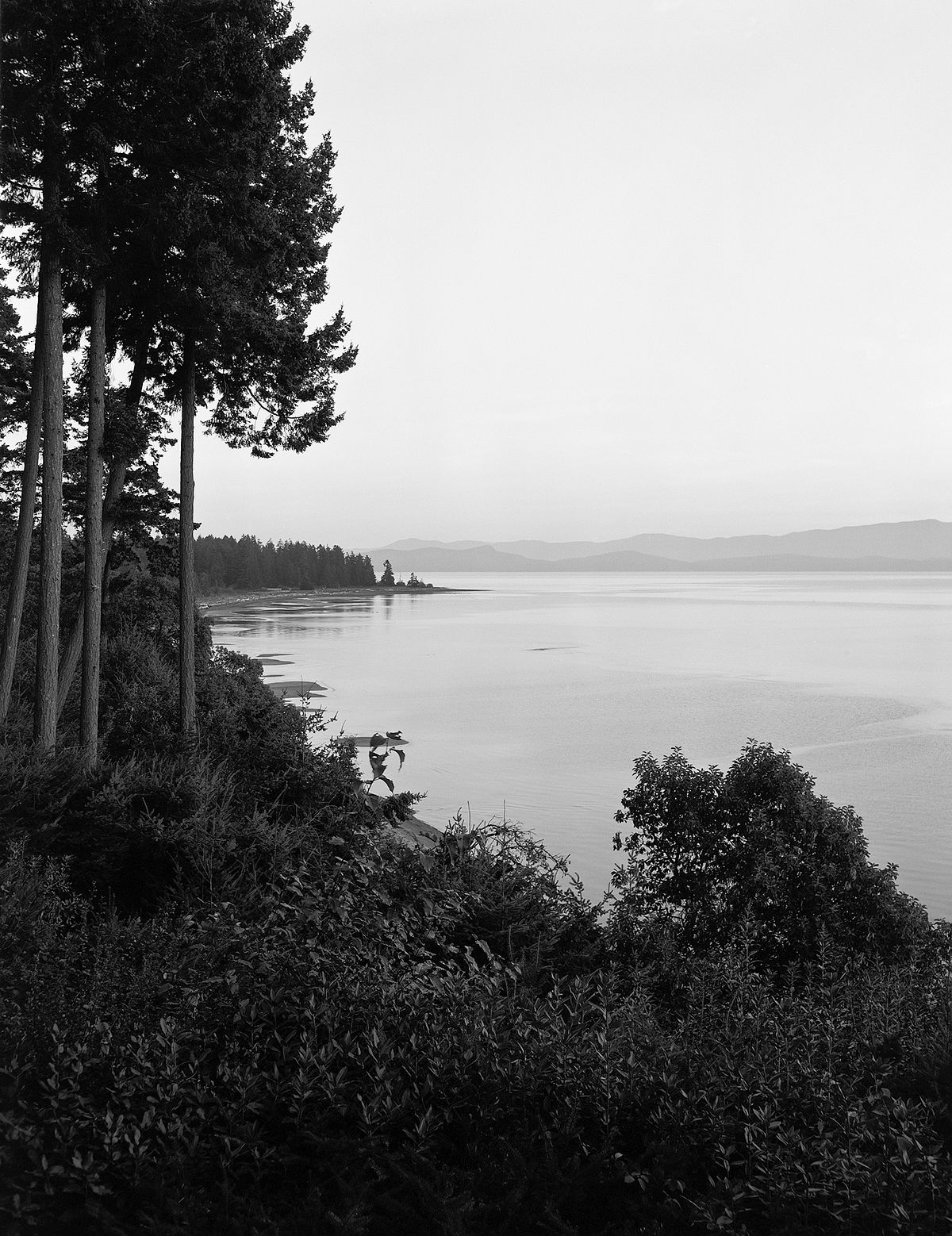 We crossed the island next in a three-hour jaunt to the isolated outpost of Tofino.  Tofino is billed as the surfing capital of Canada due to the perfect break of the Pacific as it rolls into its wild western coastline.  We didn't go to surf its rollers, but to explore the coastal rainforest along its shores. The coastal BC rainforest is the largest remaining intact temperate rainforest in the world and occupies 74,000 kilometers of Canadian coastline.  Outside Tofino is another end-of-the-road town, Ucluelet, which is home to the beautiful Wild Pacific Trail. This 8km trail winds through the rainforest offering views of coastal forest and crashing surf.   I had the time, warmth, and solitude I sought to capture "Perchance to Dream" on a twisted Cedar along the trail.
Back in Tofino, we hiked the Tonquin trail through more rainforest and stunning Pacific views.  We had unusually clear weather for a trip in October so I was not able to capture the drama of mist and fog the BC coast is so well known for.  The hanging tree moss on "Tonquin Tree",  below, is evidence of the damp climate it is accustomed to.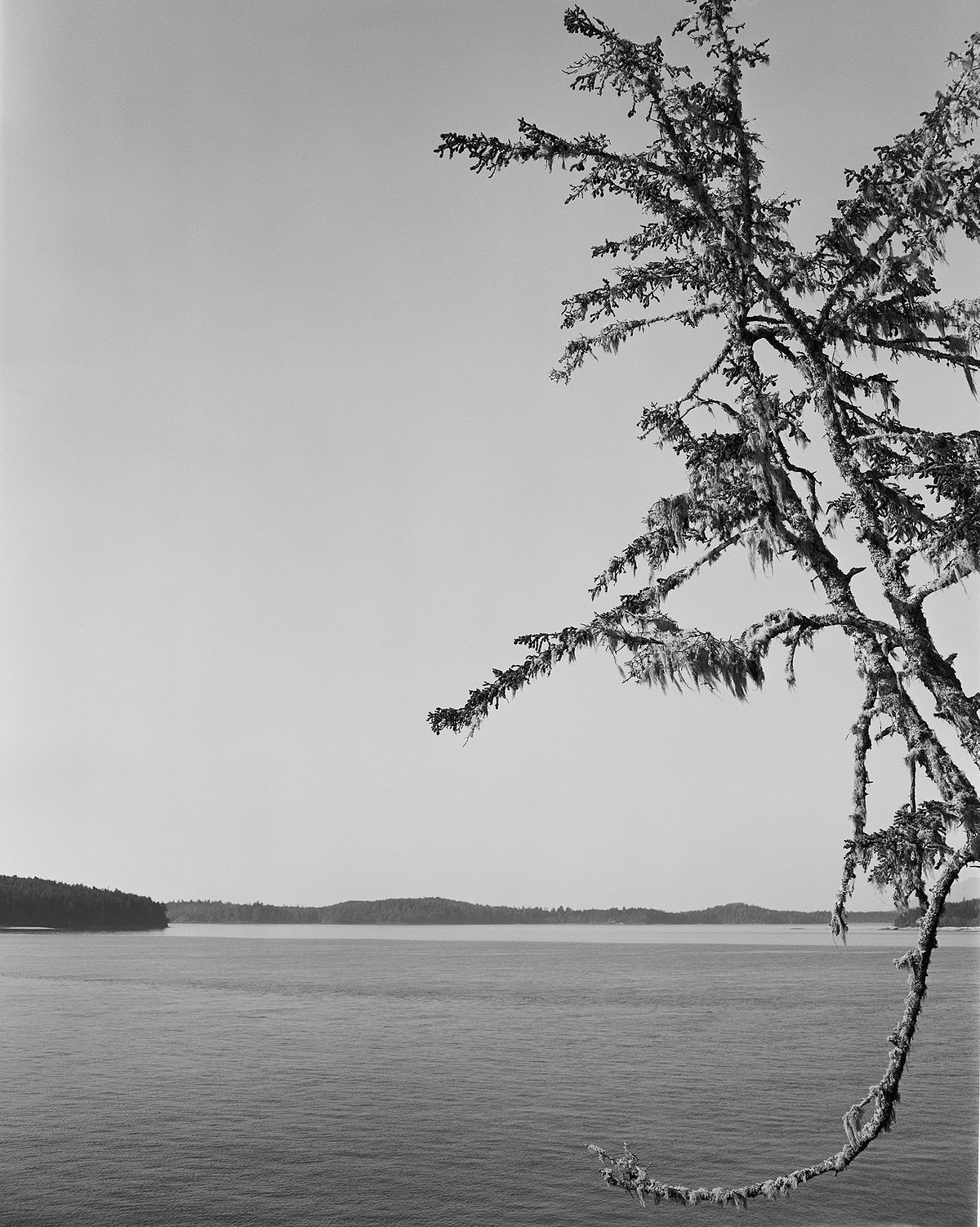 I turned around and captured "Sun Sparkled Seas" facing simply the opposite direction.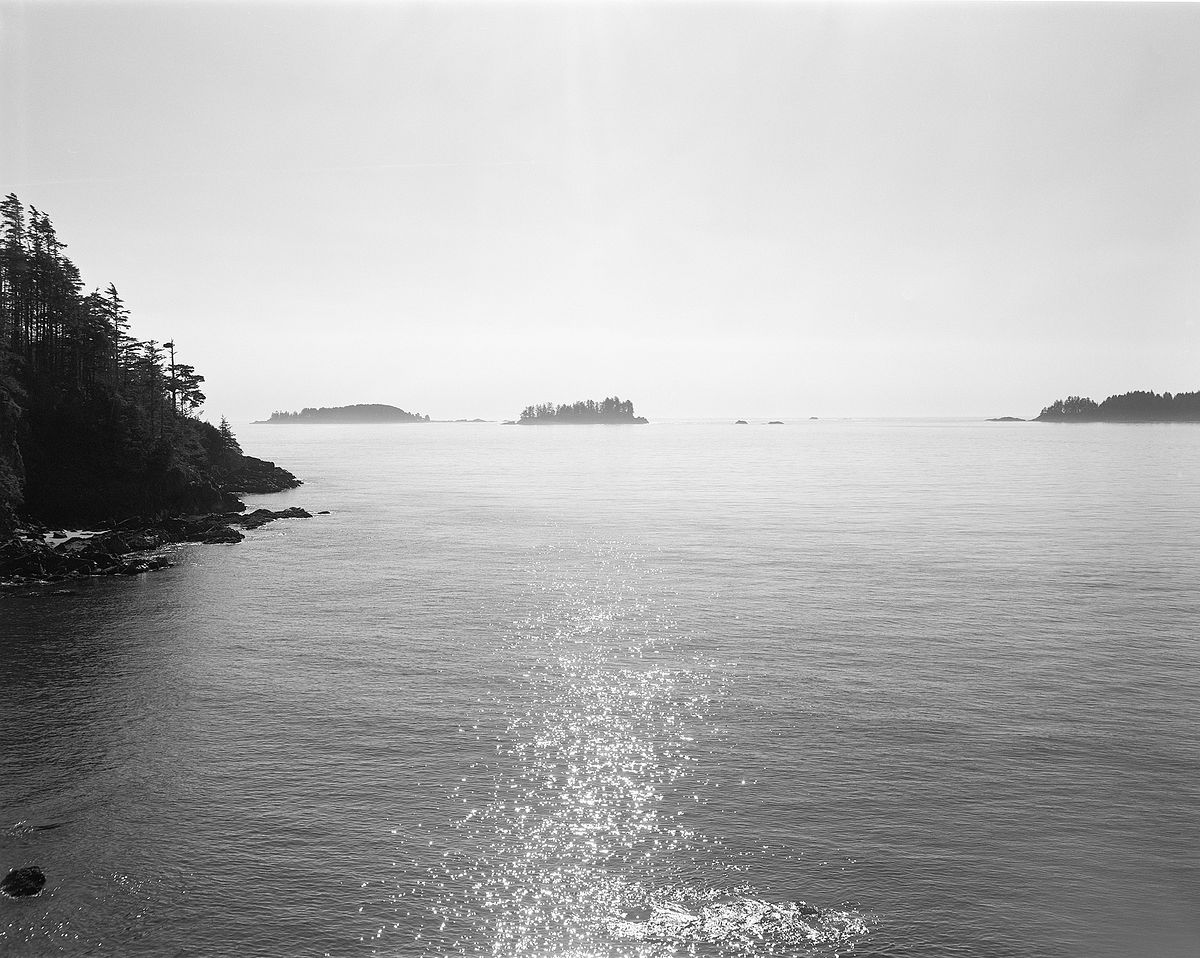 Behind the scenes on the trail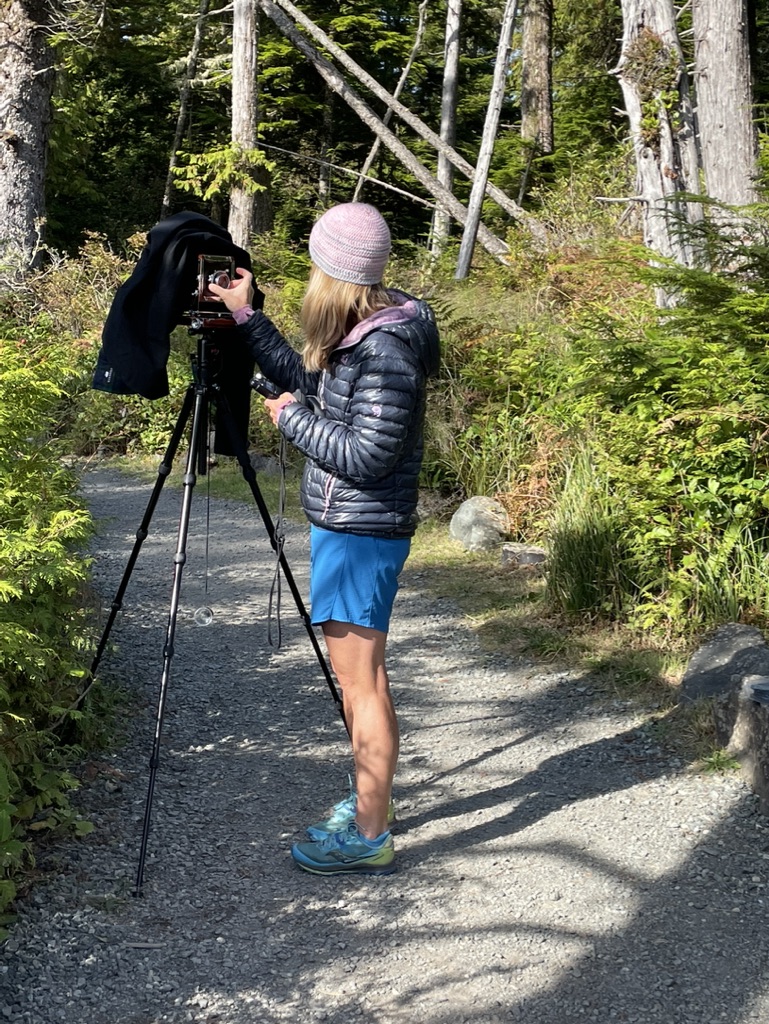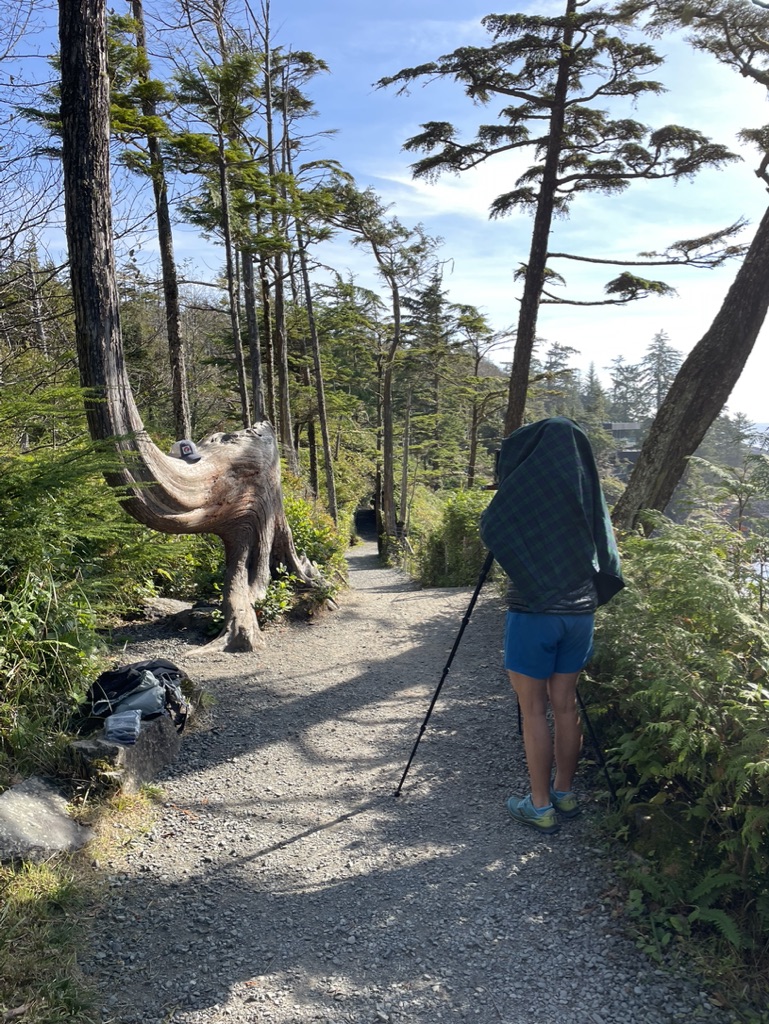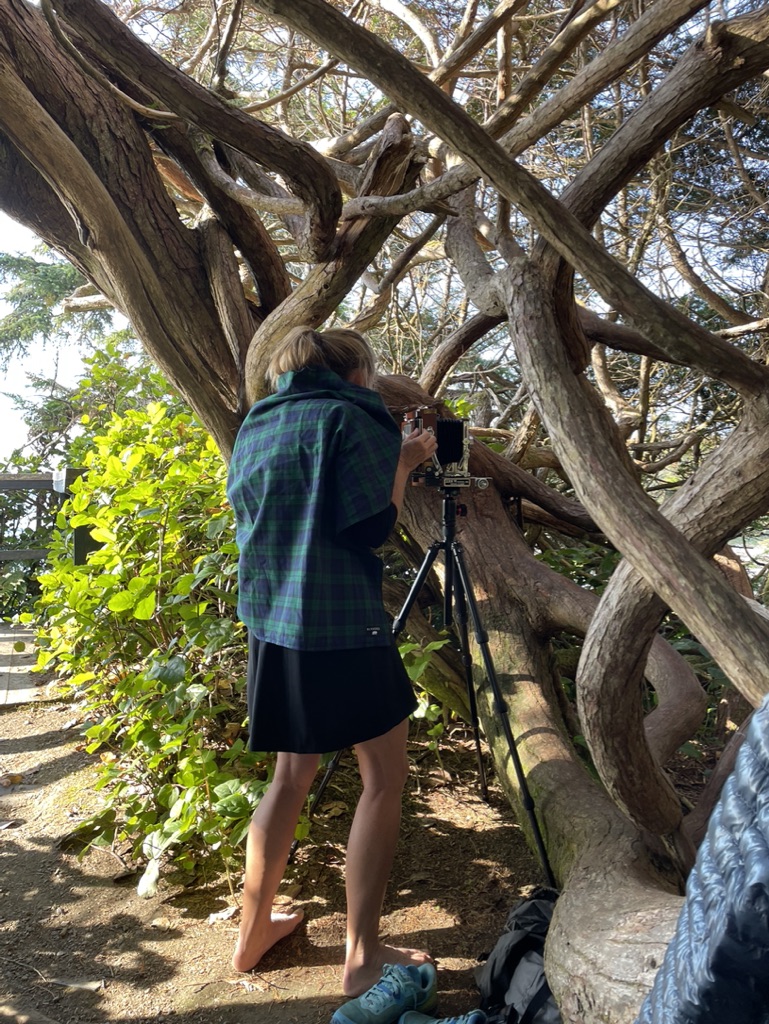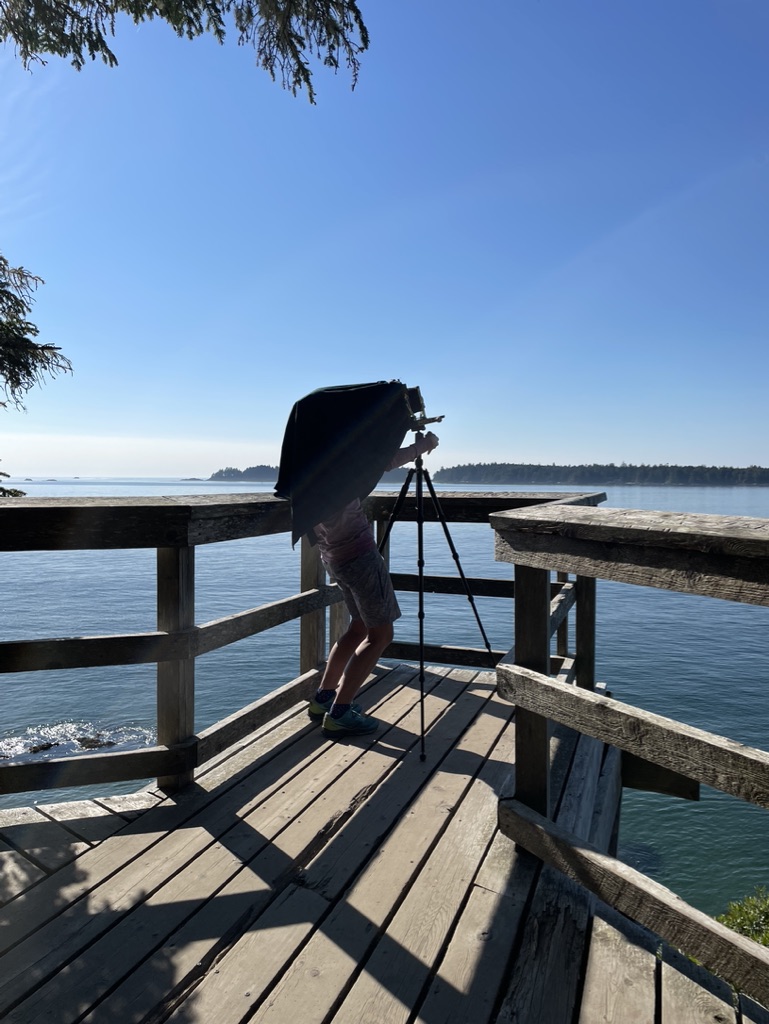 We left Tofino feeling we just had a taste and hope to return to further explore its rugged and wild coast.  We ferried back to the Vancouver mainland and stayed two nights downtown before jetting off to Calgary.
From Calgary, we drove to Emerald Lake in Yoho National Park, BC.  Emerald Lake is so called for the gorgeous blue-green color it holds.  This amazing color is created when sunlight reflects off calcium carbonate in the lake bed.  I generally like to get a "lay of the land" when arriving somewhere new, so we took a lovely 3-mile hike around the lake's shores the evening we arrived.  The weather turned the next day so I wasn't able to get the lake image I wanted on my view camera, but the Iphone images do show the beautiful color and mirror-like surface on our evening hike.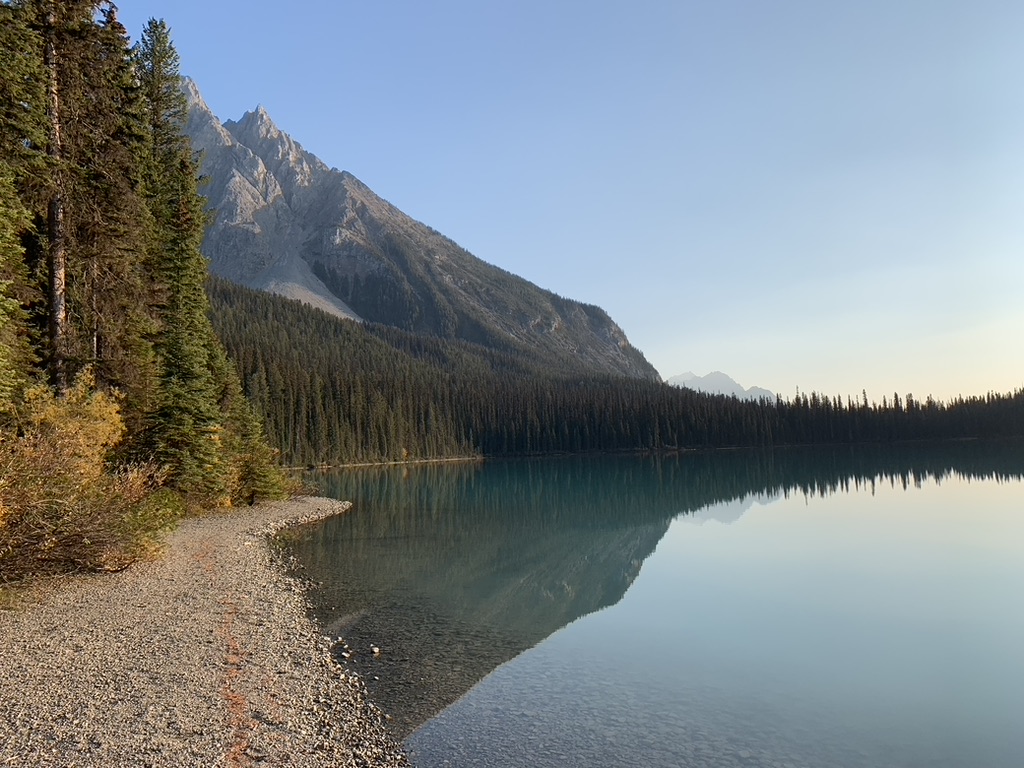 Emerald Lake, Yoho National Park, BC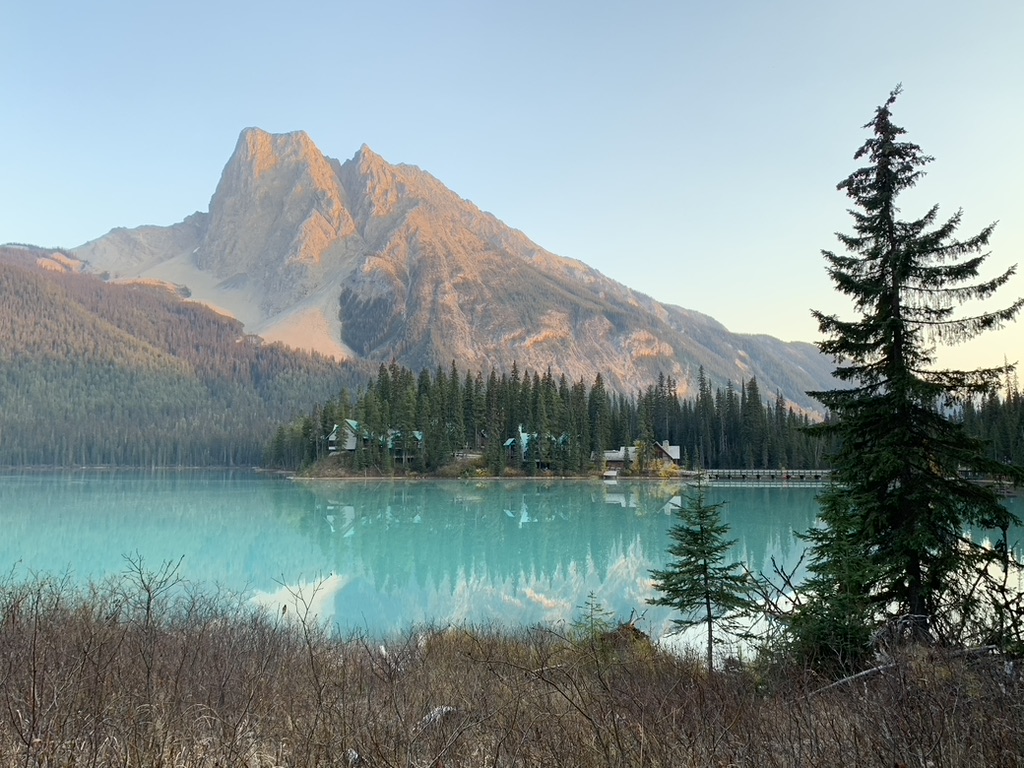 Emerald Lake Lodge, Yoho National Park, BC
After staying two nights at the Emerald Lake Lodge we headed to Banff but stopped at a little site called "Natural Bridge" on the Kicking Horse River just down the road from Emerald Lake.  The waters here were again a beautiful turquoise blue and I was interested to see how that color would transfer to black/white film.  The weather was misty and overcast so I had to use the "bulb" feature on my lens to manually keep the aperture open for the long 8-sec exposure.  I counted one-one thousand, two-one thousand, etc, and hoped for the best! I am thankful the image came out and love the milky whiteness of the water in contrast with the black of the rock.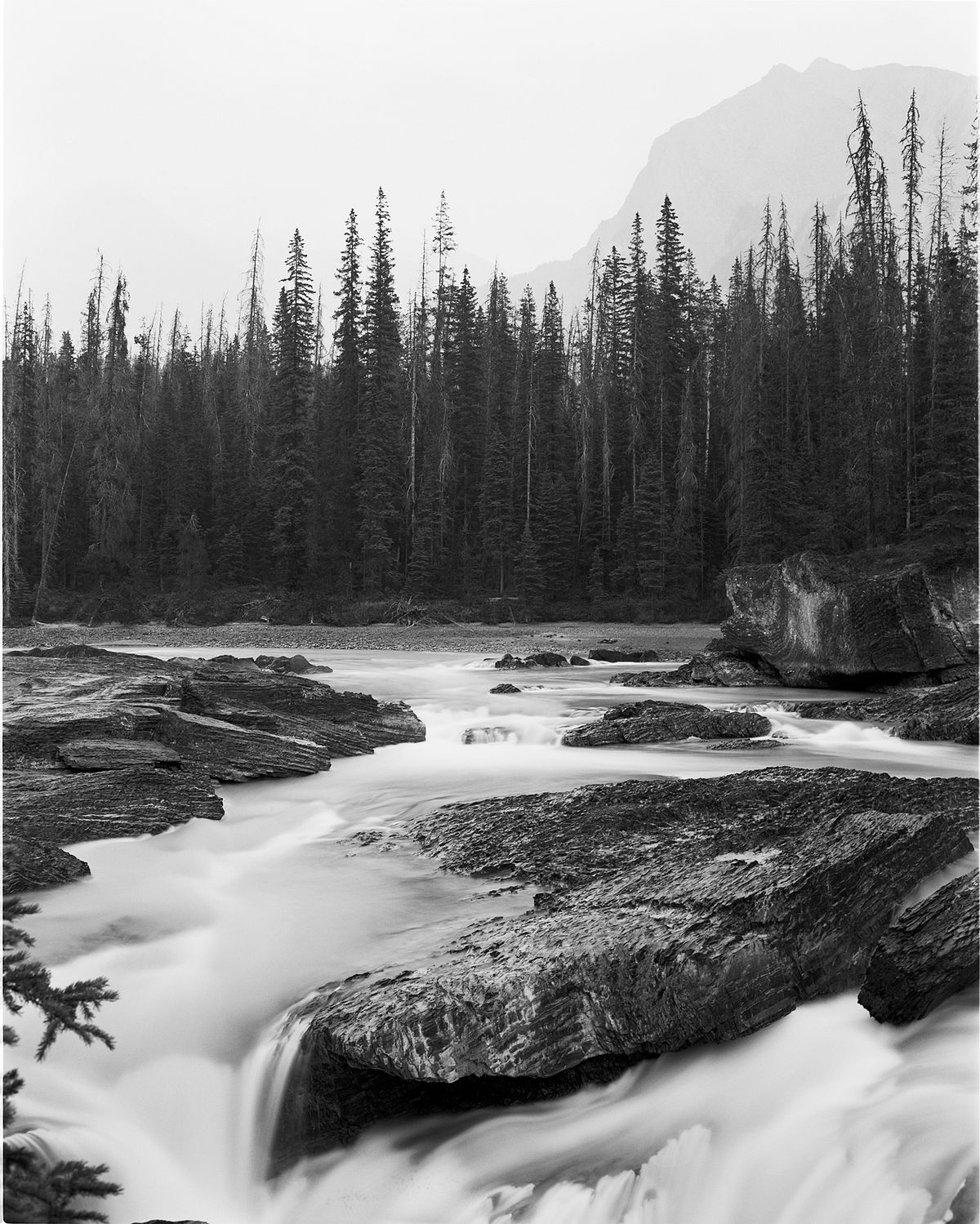 Natural Bridge, Yoho National Park, British Columbia
Set up for Natural Bridge photograph with my new trusty Nightwatch Dark Cloth by USA brand Wanderer.
https://www.wandererphotogear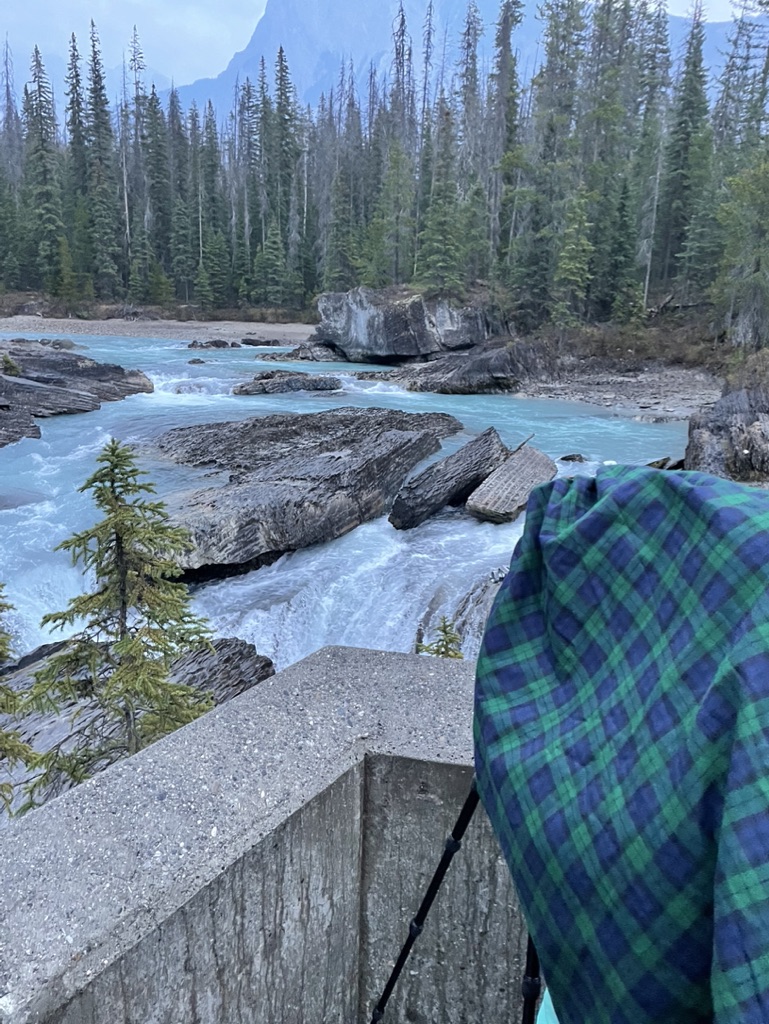 Banff was our final stop.  Winter appeared in our last few days with a couple of inches of snow on our last night.  Banff is surrounded by majestic craggy mountains on all sides and definitely beckons for a return.  I love the moody softness of Mount Rundle in my last capture before leaving Canada.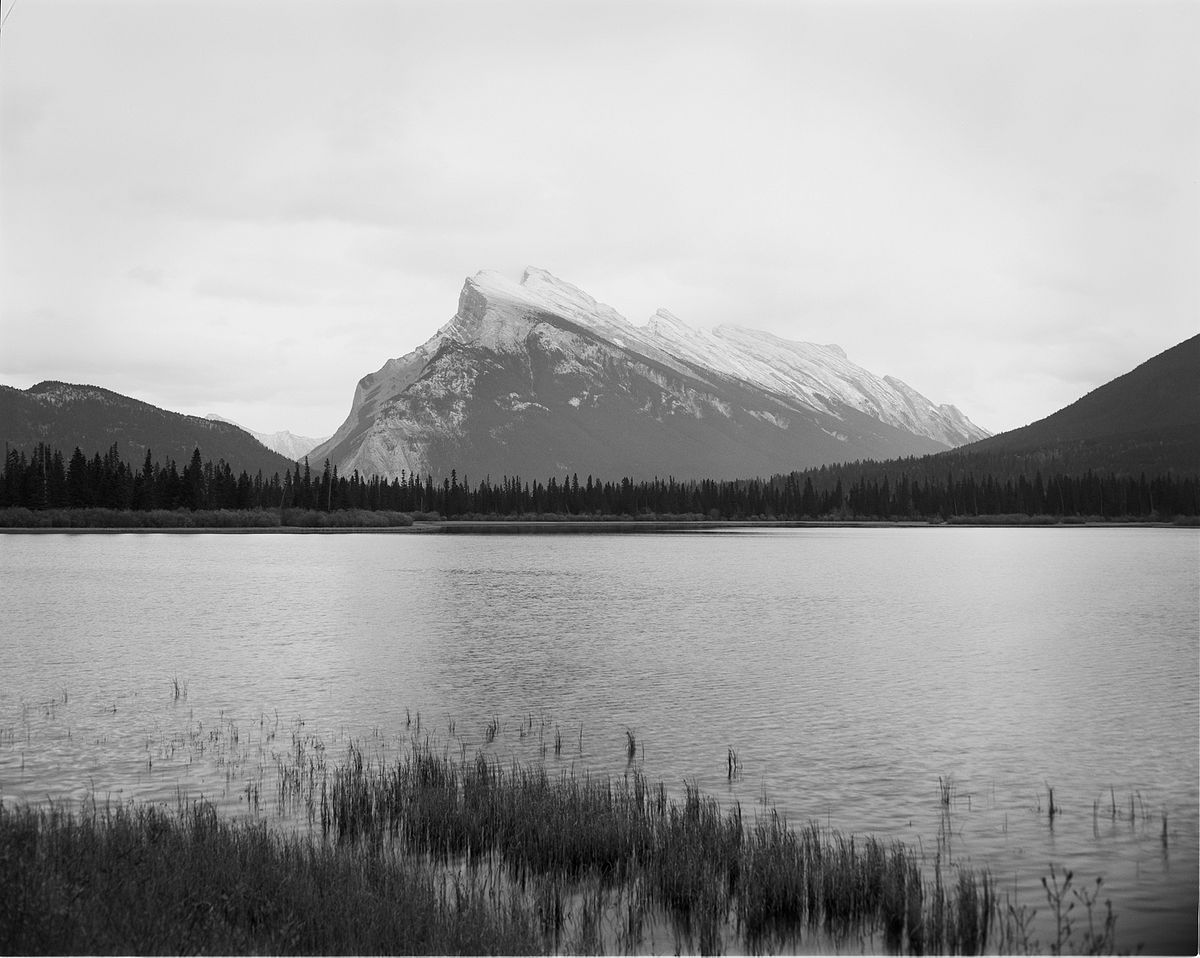 Mount Rundle, Banff National Park, Alberta
I wasn't able to capture as many self-portraits in landscapes as I had hoped, but the landscapes speak for themselves.  When I only have an arsenal of 7 cartridges to capture a total of fourteen 4x5 shots I am happy if I have one take I am pleased with.  I was happy to be pleased with more!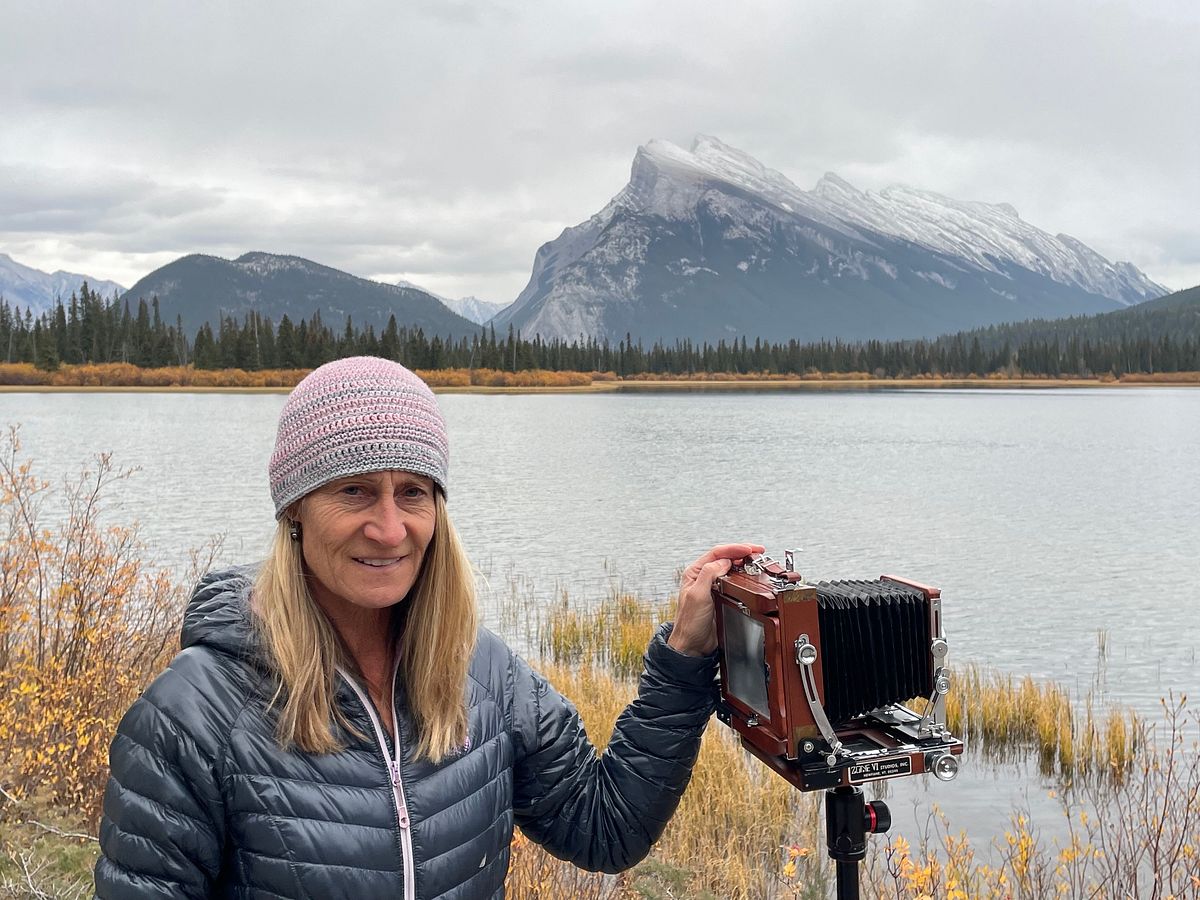 Thank you, Canada!